AetherStore was proud to be recognized by CIO Magazine as one of 2016's most promising storage solutions.
Check out the feature below, and try the AetherStore 2.0 Early Release for yourself!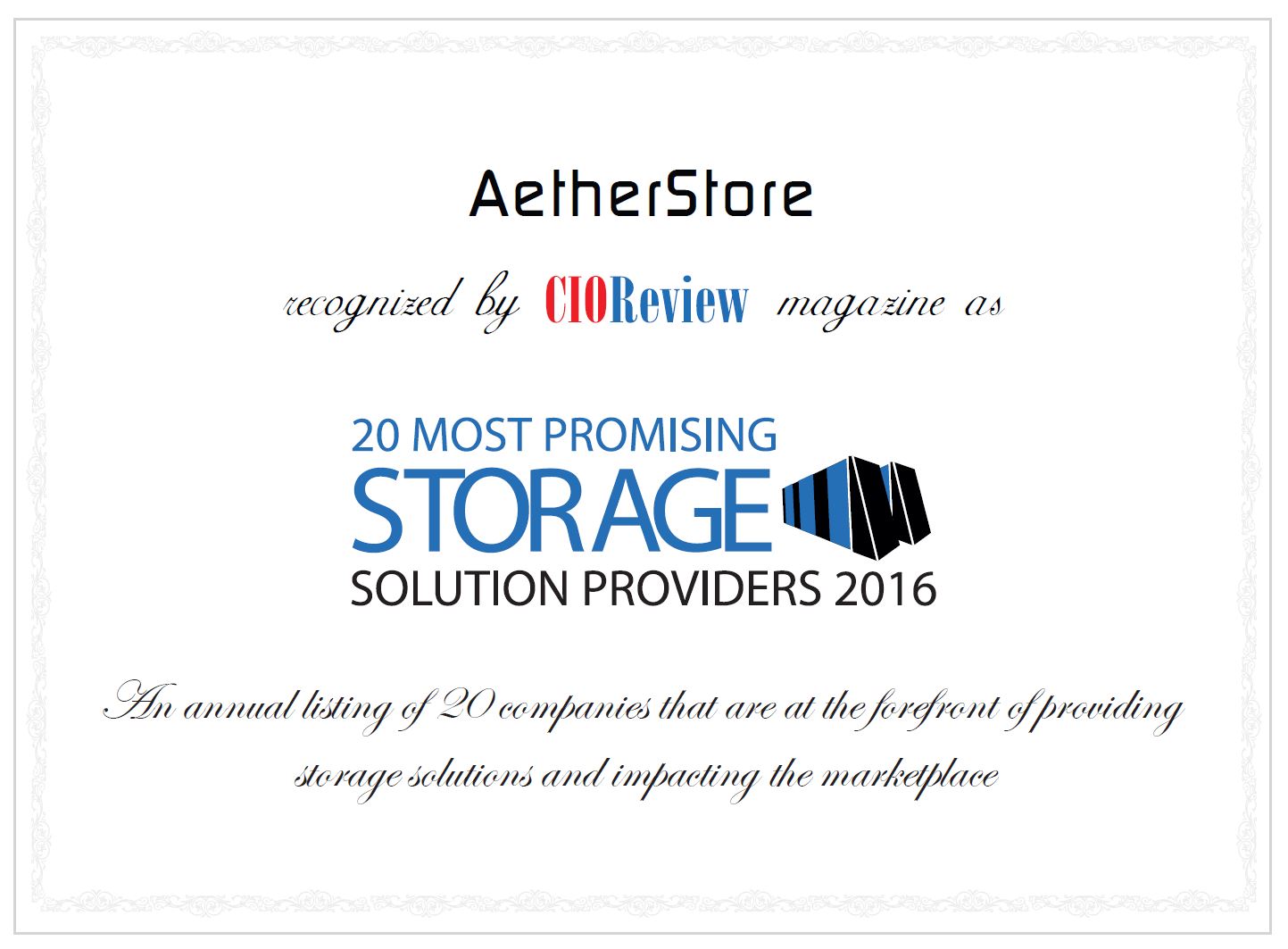 AetherStore: Delivering Software-Defined Storage for All
Organizations are creating more data than they can store. To keep up, firms need fast access to secure, affordable storage, and there's no more efficient way to meet demand than to use existing hardware to its full potential. Fueled by advancements made in computer network and storage virtualization, enterprises are recognizing the advantages of scalability within their own infrastructure. New York, NY based AetherWorks' solution, AetherStore, enables organizations to pool unused space on workstations and servers into a robust, secure drive, turning would-be wasted space into an enormous data storage opportunity.
"Our customers get a super-low RTO simply by using AetherStore as part of their Disaster Recovery (DR) plan."
AetherStore offers cloud-like storage on premise for customers, providing the flexibility of public cloud along with all the security and availability benefits of onsite storage. AetherStore is a pure software-defined storage solution, a downloadable product that is hardware agnostic and runs on any Windows machine from XP to Windows 10. Robert MacInnis, Ph.D., Founder and CEO of AetherWorks, believes that onsite storage is of the utmost importance when it comes to speed and reliability for data. "When disaster strikes, having an onsite copy is way faster to recover from than a cloud replica," says Maclnnis. "Our customers get a super-low RTO simply by using AetherStore as part of their Disaster Recovery (DR) plan."
AetherStore users are able to create a drive in minutes with the desired amount of storage, which can be further increased or decreased by adding or removing machines on demand. Customers use AetherStore by downloading and installing the Core on machines with extra space, and the Dashboard on the device from which they will manage their space. The solution provides built-in redundancy, storing four copies of each data chunk across the machines in a client's network. AetherStore is also inherently self-healing and will recopy data to active nodes to proactively maintain 4x replication without any manual intervention. AetherStore encrypts data in transit and at rest, and only the administrator has access to the drive. AetherStore also provides deduplication for added efficiency.
Clients across verticals are creating storage on demand using only their existing hardware with AetherStore, while staying within budget. In one such instance, one of the company's clients at a large university was facing a shortage of storage space as well as budget constraints to purchase new hardware. The university installed AetherStore on their machines and reclaimed over 30 terabytes of storage space for onsite backup, saving many tens thousands of dollars and the headache that comes with pursuing additional hardware like a SAN.
AetherStore empowers its users with such advantages as saving time (setting up an AetherStore drive can be done in as little as 90 seconds after installation) cost efficiency, and the added security benefit of having no central points of failure. AetherStore also provides peace of mind against the rising threat of ransomware, as the software will never transmit corrupted data between machines, ending any malicious entrances into the network at the source. Looking to the future, AetherStore also holds much promise in the vast ecosystem that is the Internet of Things. "There are opportunities, like utilizing the spare computational resources available at edges, and managing the geographical proximity of data and computation," explains Maclnnis. "But we'll keep those under our hat as we look to explore core IoT industry partnerships in the upcoming months."
See what AetherStore can you for your environment! Check out the AetherStore 2.0 Early Release.