A cloud copy ensures you can access your data from anywhere with an internet connection, while your local copy in AetherStore guarantees fast and easy access even without one.
Till now, we've only been covering cloud backup software in our "Best of Both Worlds" series. For this post, we'll be changing things up a bit to take a look at SyncBackPro, a popular backup and sync-tool with a variety of useful features.
Unlike Carbonite or CrashPlan, SyncBackPro doesn't come with any cloud storage by default, so you'll have to find other means of cloud storage to connect with. Instead, SyncBackPro's strengths come from its flexibility and its ability to consolidate different types of storage, local or cloud, thereby increasing utility and ease-of-access. You can even set it to make use of Google Drive or Microsoft OneDrive as your Cloud backup locations, allowing the usefulness of these services to stretch beyond just their conventional use cases.
That being said, for my setup I was able to link my AetherStore to both my Google Drive and Microsoft OneDrive with beautiful results. Backups worked flawlessly and quickly, and the whole setup was very flexible, allowing me to schedule backups whenever I wanted, as well as giving me the freedom to choose which files I wanted to back up specifically. For users who don't have a huge amount of files to backup, I imagine this method may be a very reasonable one, given that both Google and Microsoft offer free-level tiers to their cloud storage products, unlike Carbonite or CrashPlan.
Without further ado, here is how you can use SyncBackPro to connect AetherStore with Google Drive. The steps are pretty much the exact same if you'd rather use Microsoft OneDrive instead.
Connecting AetherStore & SyncBackPro:
As per usual, you'll see that I already have my AetherStore set up with my most important files already sitting in there. If you haven't gotten around to it yet, go ahead and do the same.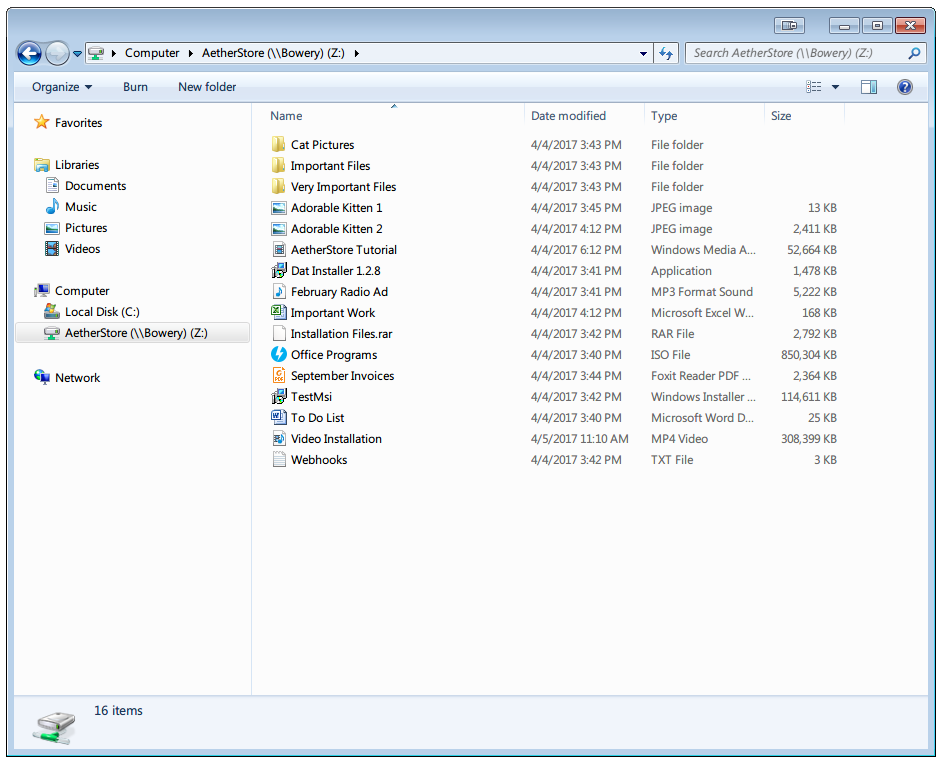 1. Create a new backup profile
Install SyncBackPro and run it. You'll need to set up a new backup profile. You can do so by pressing the 'New' button on the bottom left.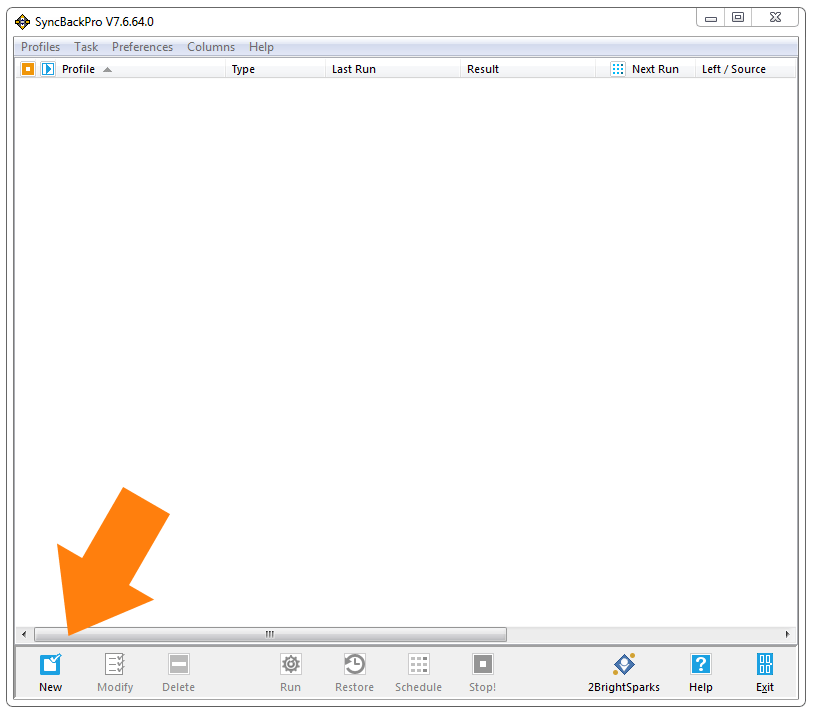 2. Name your profile
Give your new profile a name. I called mine AetherStore. Press 'Next'.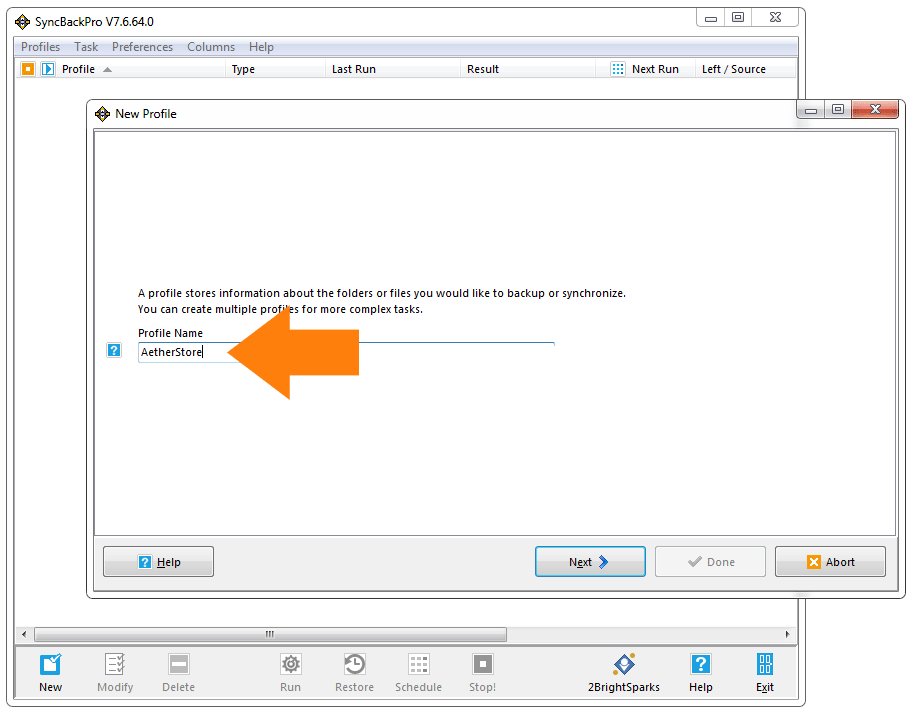 3. Select Source and Destination type
The 'Source' dropdown should be set to internal/external drive. For the 'Destination', choose the appropriate destination type. I chose Google Drive fo rthis demo, but really you can use a large number of other Cloud storage providers as well.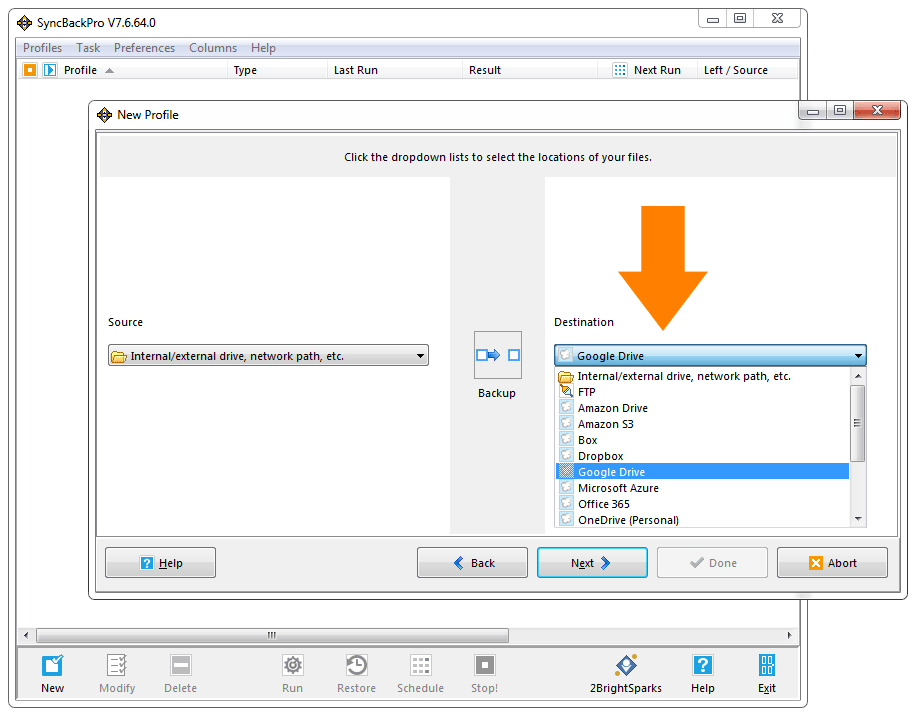 4. Authorize
Press the 'Authorize' button.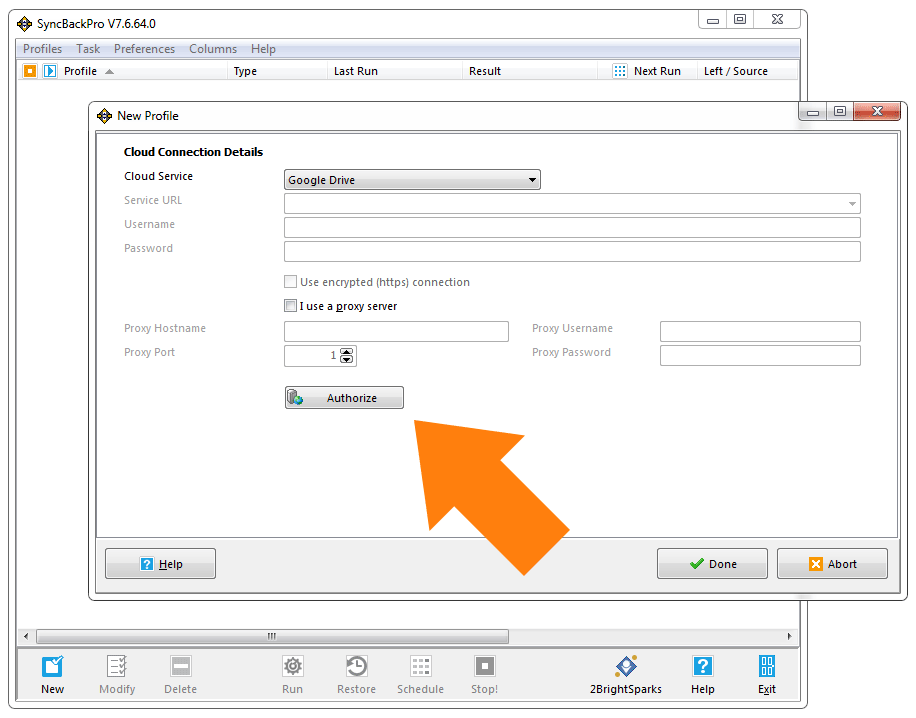 5. Authorize SyncBackPro within Google
You will be taken to a Google authorization page. Press 'Allow'.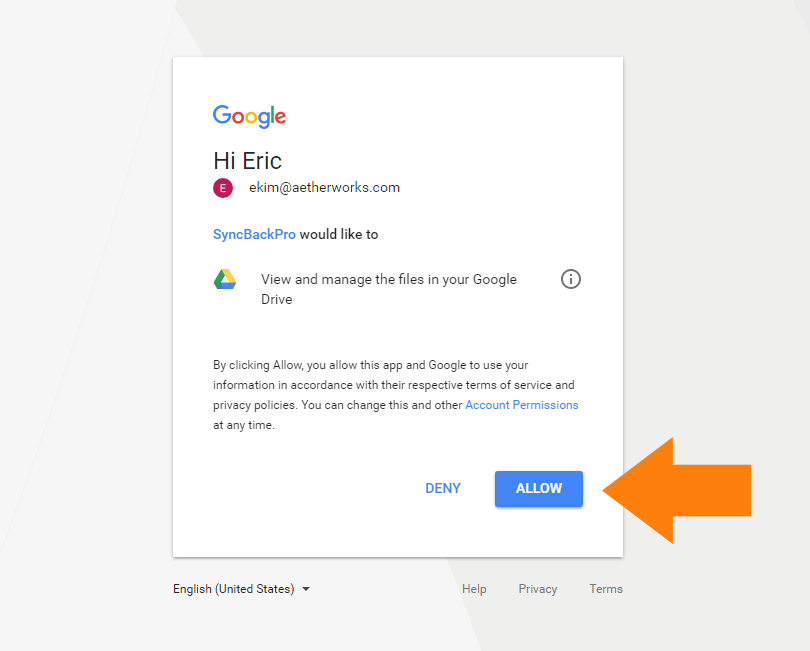 6. Copy Code
You'll be provided with a length code. Copy this code to your clipboard.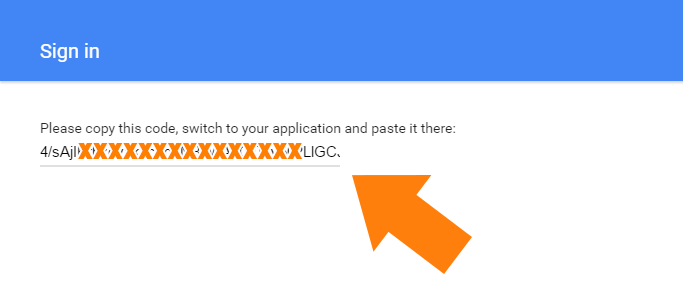 7. Paste code into SyncBackPro
Now go back to SyncBackPro, and paste the code into the dialog box, and press 'Ok'.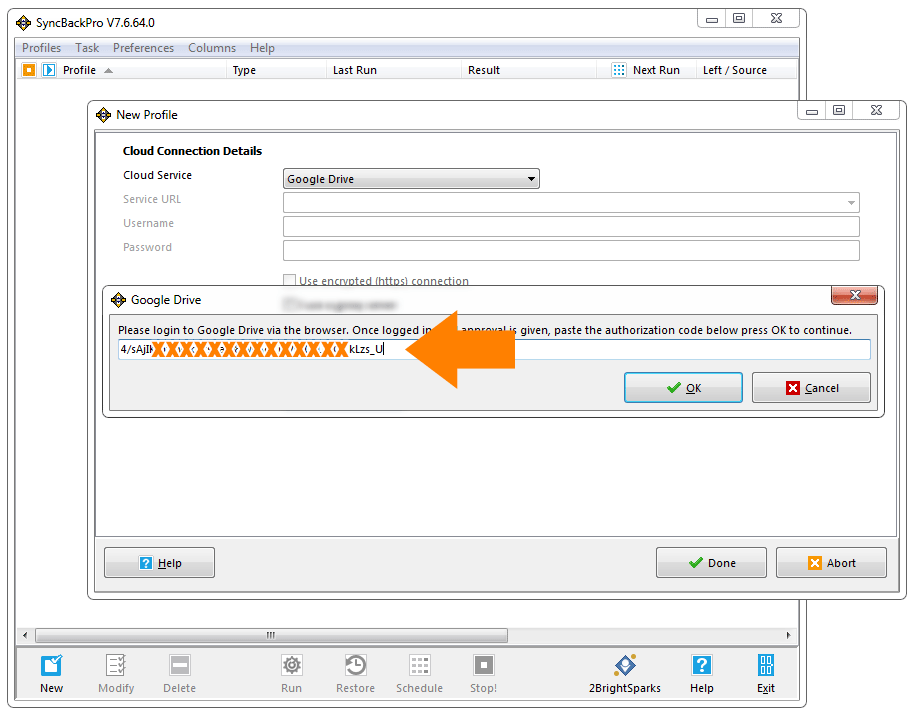 8. Select source path
In the next window, select the Source path as your AetherStore, then press 'Ok'.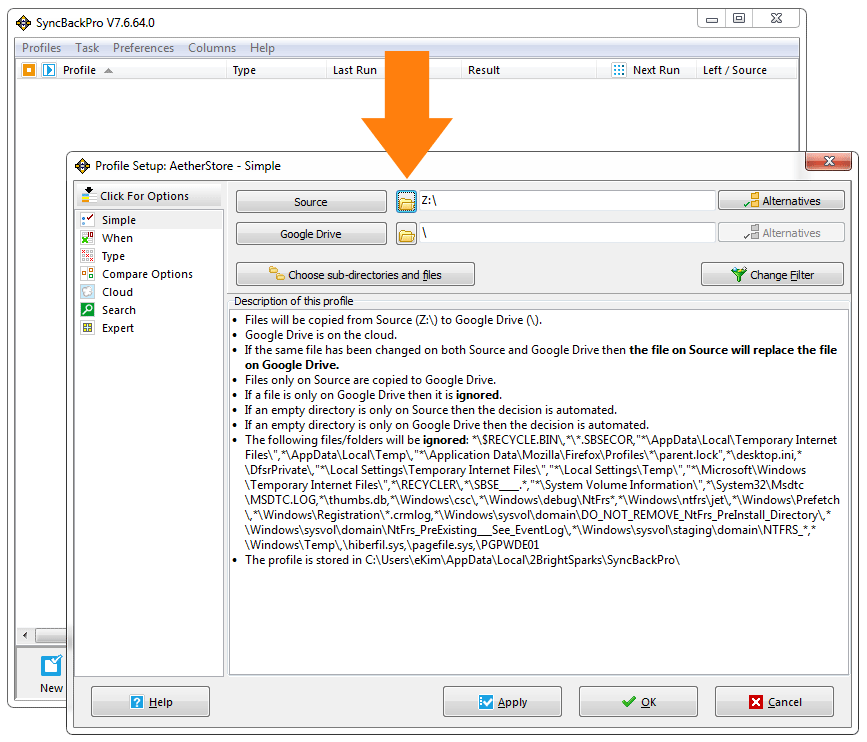 9. Run the backup
You'll see that the profile you just created will now show up on the SyncBackPro list of profiles. To run the backup, press 'Run' below.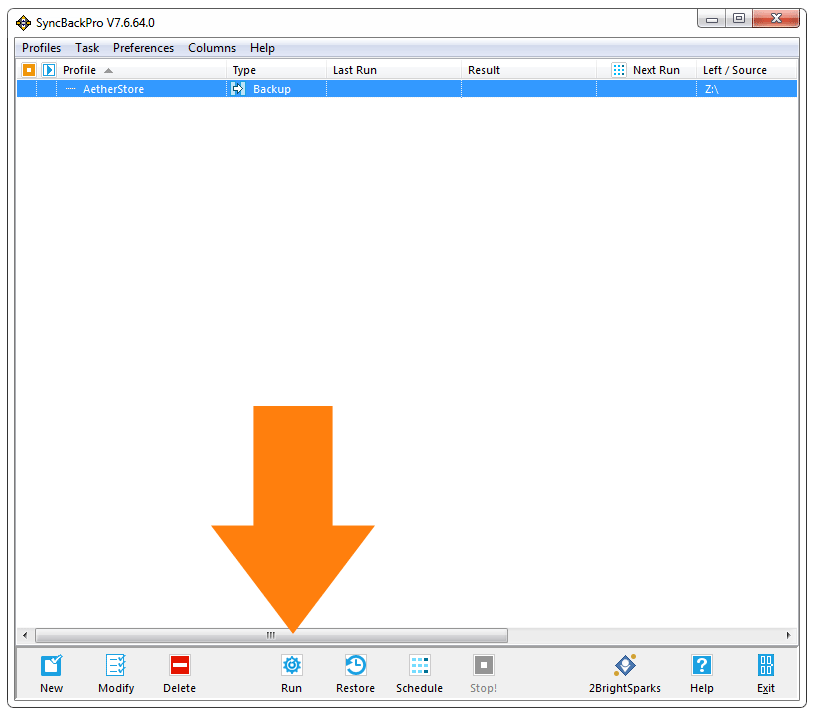 10. Select backup files
In the next window, you'll be able to specify which files you want to backup. Everything will be selected by default. When you're ready to proceed, press 'Continue Run'.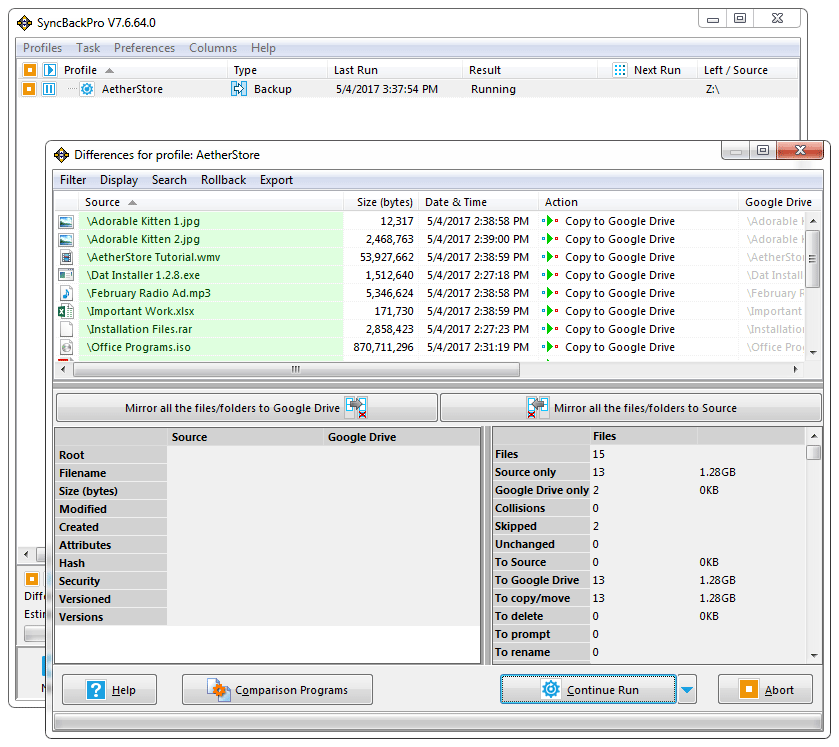 11. Complete backup
And you're set! Your files in AetherStore are now being backed up to your Google Drive.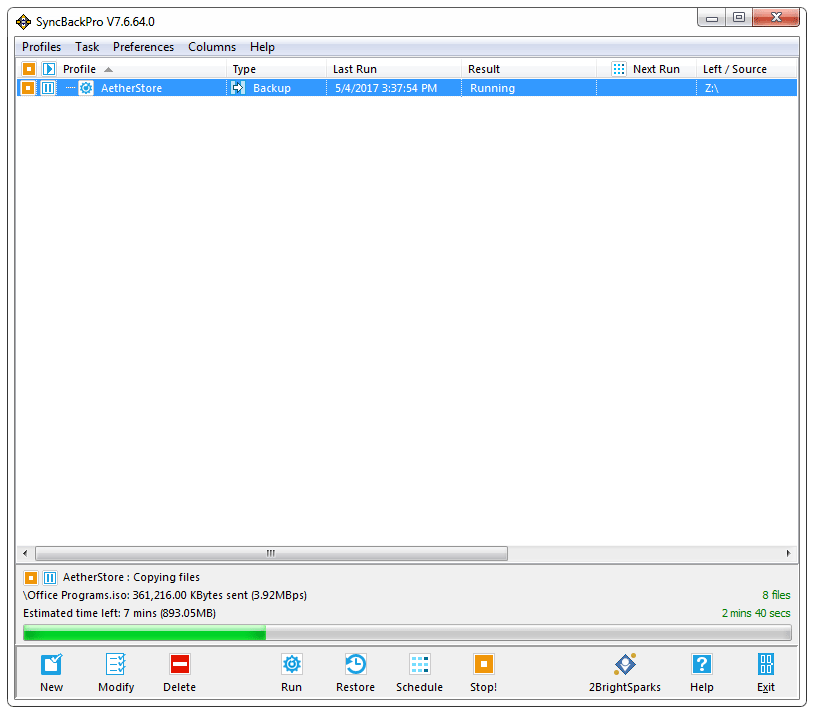 Simple, isn't it? The files in your AetherStore are now backed up to your Google Drive. Rest assured that you've applied the 3-2-1 backup strategy to your most important files now!