AetherStore v1.2.4 is out now! In addition to UI updates and enhanced stability features, the release is equipped with a new feature that provides even more control over your storage space: the ability to Add and Remove nodes from a Store after you've created it.
Benefits of Add/Remove:
The benefits of the new Add/Remove functionality are obvious: add new machines to a Store at any point after it's been created to increase capacity on the fly. Or, remove machines that you no longer want to use for AetherStore if you don't need the space. Most importantly, you can do it all without having to recreate your AetherStore drive.
The new functionality also has licensing and payment benefits: it's easy to swap machines in and out of Stores, so you can add licenses seamlessly whenever you need them, and are never stuck paying for them when you don't. Add/Remove from an existing Store truly makes storage provisioning concerns a thing of the past.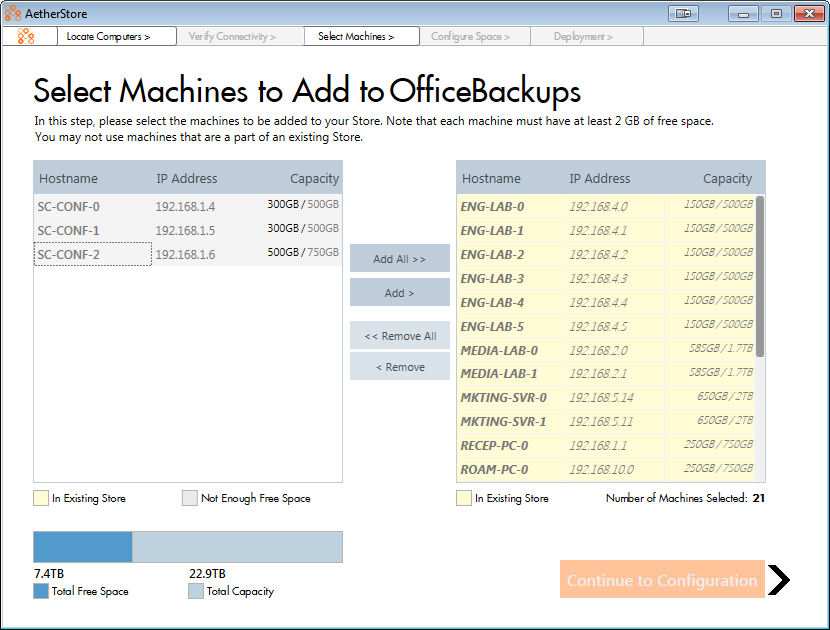 Update Now
Add/Remove from an existing Store has been a hotly requested feature from our users. so we're excited to be rolling it out in v1.2.4! If you're running AetherStore now, make sure to open your AetherStore Dashboard to update all your AetherStore machines and take advantage of everything v1.2.4 has to offer.
Interested in downloading AetherStore v.1.2.4? Check out our Partner Program to start your free trial.
Want to purchase AetherStore licenses? We'll put you in touch with an AetherStore Partner: